Le Domaine des Naïades
SERVICES
From the moment you arrive at the campsite and throughout your stay in the Var, the welcoming and enthusiastic team at the Domaine des Naïades – reception, mini-market, restaurant, housekeeping, maintenance, green keepers and entertainers – have as their only priority to make your Côte d'Azur holiday one to remember !
RECEPTION - YOUR ARRIVAL
The reception is open throughout each day from 8am to 7pm. From the moment you arrive, an energetic and multilingual team is at your service and can advise you on the must-visit sites during your holiday in our Var campsite.
Handover of keys to rented mobile homes is from 4pm. Check-out is between 8am and 10am weekdays and between 7am and 10am on the weekend.
You will be asked for a €150 deposit for the mobile home and for the cleaning fee (mandatory) when you check in.
We would like to remind you that tents are not allowed on our mobile home sites.
Outside of the opening times, a night guard takes over to welcome late arrivals until 11.30pm. Please note that vehicle traffic is not allowed on the Domaine between midnight and 7am.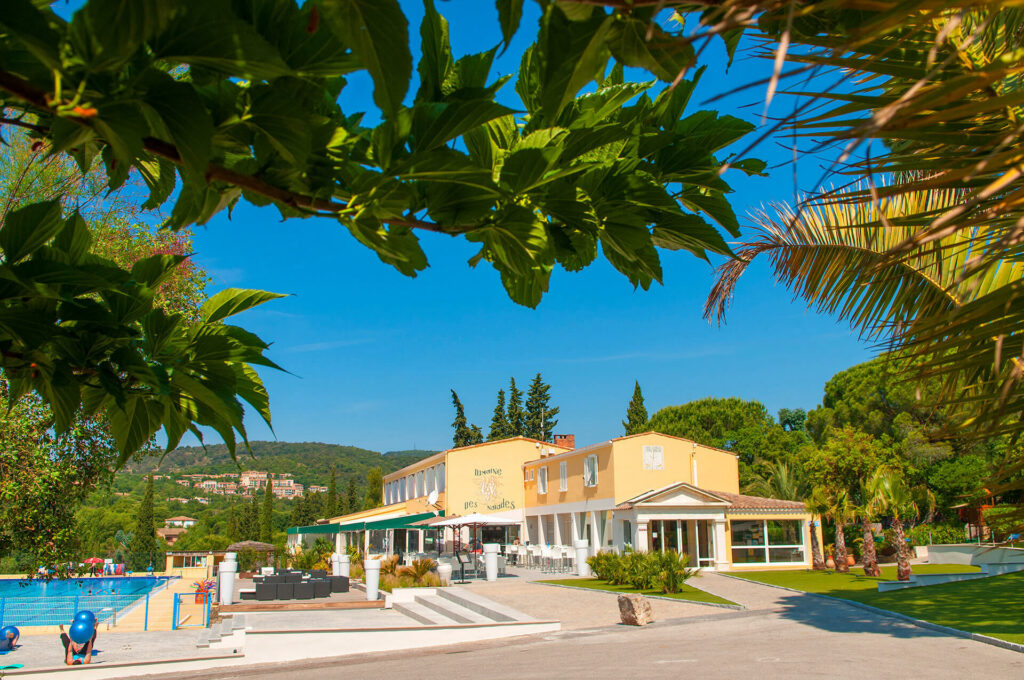 TAKE ADVANTAGE OF THE SERVICES OF A 5 STAR VAR CAMPSITE !
If you forgot to bring your sheets and towels or if you don't want to load too much for the journey, these can be hired at reception (booking advised).
Loan of iron, hair dryer
Laundrette available within the campsite
Drop off mail point
Safety box rental
Internet point at reception Card sold at reception
Free beach shuttle service : July / August ONLY
Touristic information service
Charging station for electric/hybrid cars
👩🏿‍🦽 Access for people with reduced mobility (including accommodation)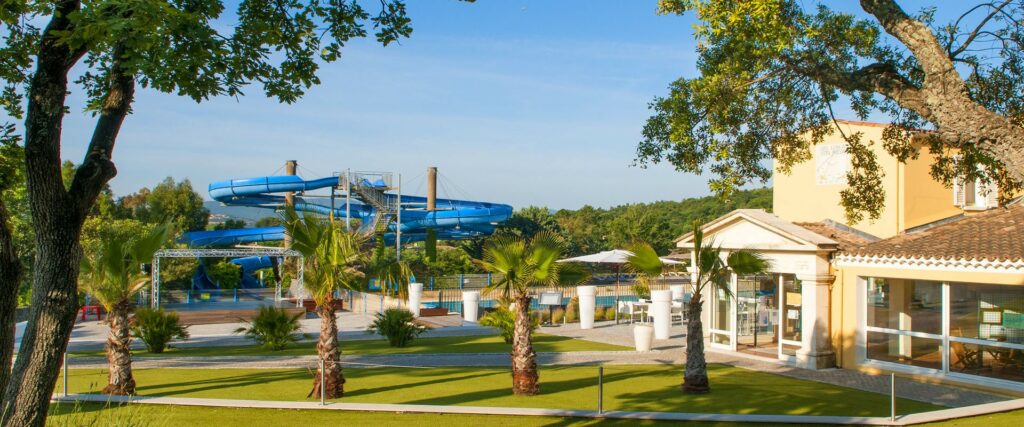 THE NAÏADES RESTAURANT IN GRIMAUD WELCOMES YOU THROUGHOUT THE SEASON
Our restaurant close to reception is one of Grimaud's best and can cater for up to 140 guests. Food is served 7 days a week, from midday to 14:00 and evenings from 18:30.
Dinner is served ! Take advantage of your holiday in the Var region to sample the flavours of the South !
The lunch menu at our restaurant in Grimaud includes a different special every day.
And in the evenings, food lovers can choose from the set menus or à la carte, as they wish.
You've just come back from the beach and you want to eat in your rental, but while holidaying in the Var region, you don't really want to cook… No need to panic ! The restaurant team has a range of dishes on offer to take away. In July and August, come and enjoy our Snack eat in or take away. Throughout the season, our restaurant in Grimaud puts on a first rate meal for you. Between family or friends, come and discover cuisine with notes of Provence and the Mediterranean.
The bar at our restaurant in Grimaud is open daily from 08:30 to midnight. Drinks can be enjoyed on the terrace are available all day.
Book your meals along with your Var holiday rental.
When you book your holiday rental in the Var, you will have the opportunity to book a full-board option (breakfast + lunch +dinner), or half-board option (breakfast + dinner) at our Restaurant in Grimaud. The package ideally suited to short stays – less hassle and more freedom.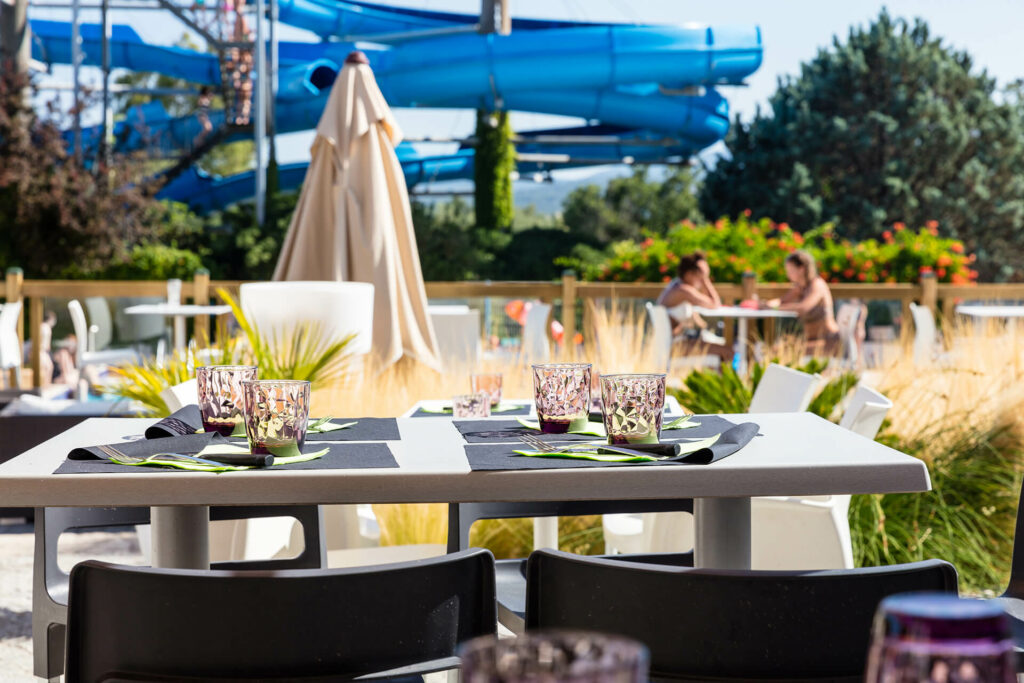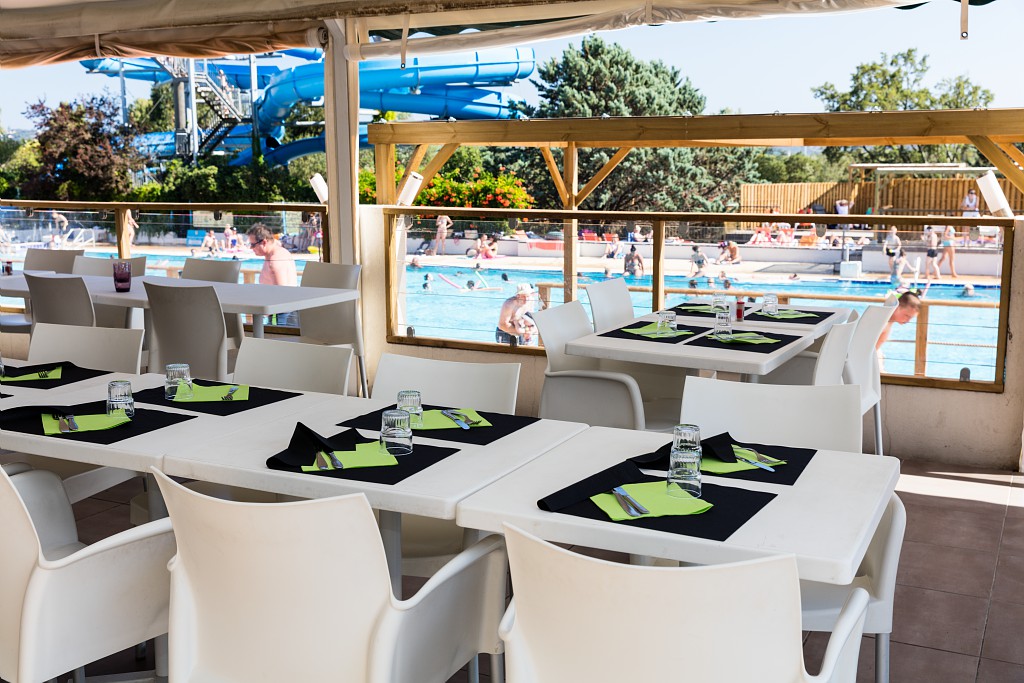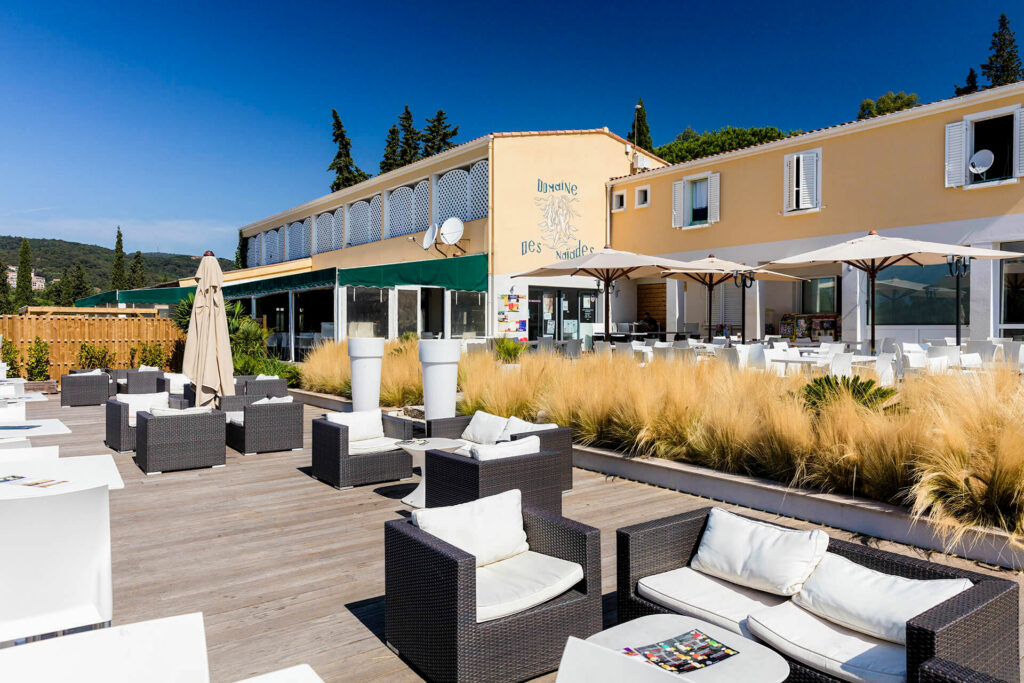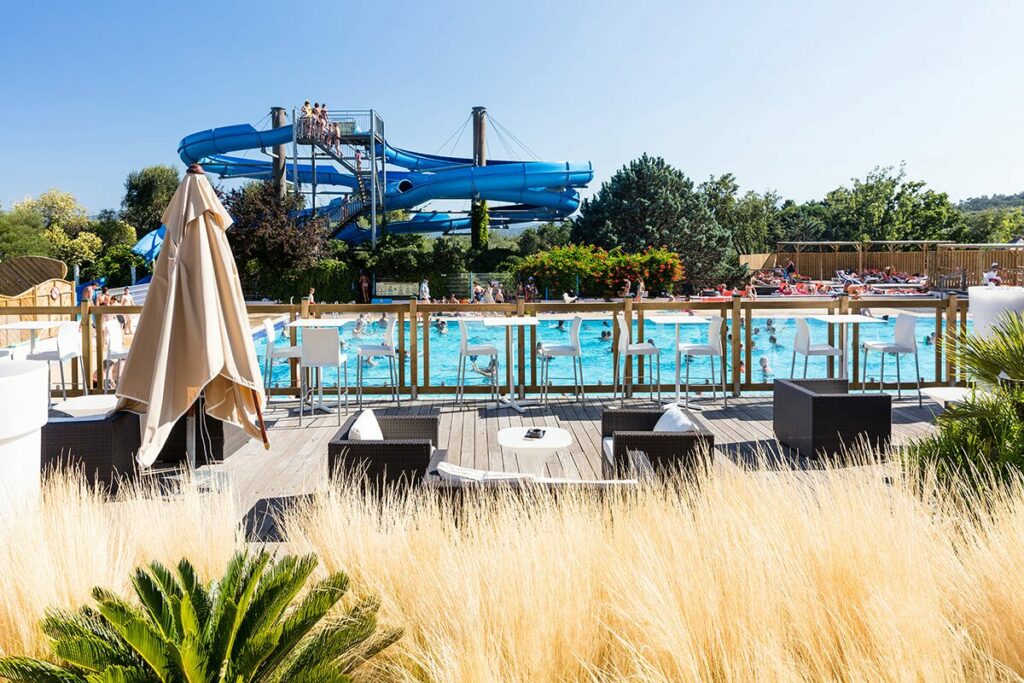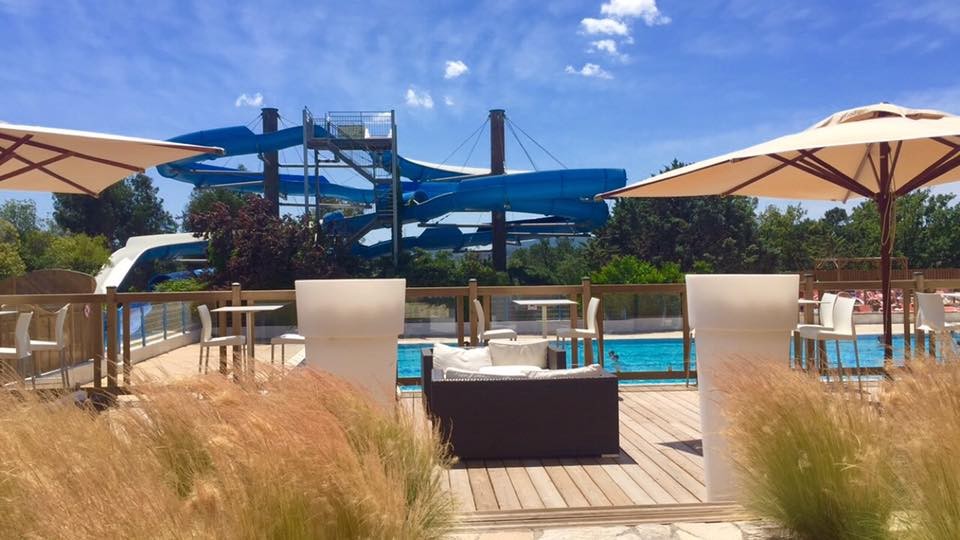 THE MINI-MARKET
Spacious, modern, and always better stocked, our mini-supermarket is located at the entrance of the campsite.
Naturally, there are fruit and vegetables, milk products, cold drinks, beach items, washing powder, etc…But also French and international newspapers to keep you up to date from your campsite or from your mobile home.
Open 7 days a week throughout the season, you can fetch your warm Viennese or baguette, cooked on site in our real bread oven.
During your holidays on the campsite in a mobile home:
Our mini-market is handy ! By choosing to spend your holidays on the Côte d'Azur in a mobile home, you're after a break from the daily routine. Holiday time should also be carefree and a time to spoil yourself. So don't hold back and give in to your last minute desires. An impromptu drinks party at your mobile home after a good game of pétanque at the campsite and you've no ice-cubes? In just a few minutes, you can be at the mini-market to get ice in cubes or in a block to serve a cold drink to your guests. Are the kids peckish on the way back to your mobile home after a family afternoon spent at the campsite pool ? A detour into our mini-market will calm your little ones' appetites until dinner. It's the small things that make your holidays on the Côte d'Azur a hit !
An inescapable holiday ritual: sending postcards to family and friends.
You can also send your messages and sunny hellos from your mobile home, since stamps and postcards showing the nearby villages are on sale here. Then all you have to do is bring them to the Domaine reception and we will take them to the post office.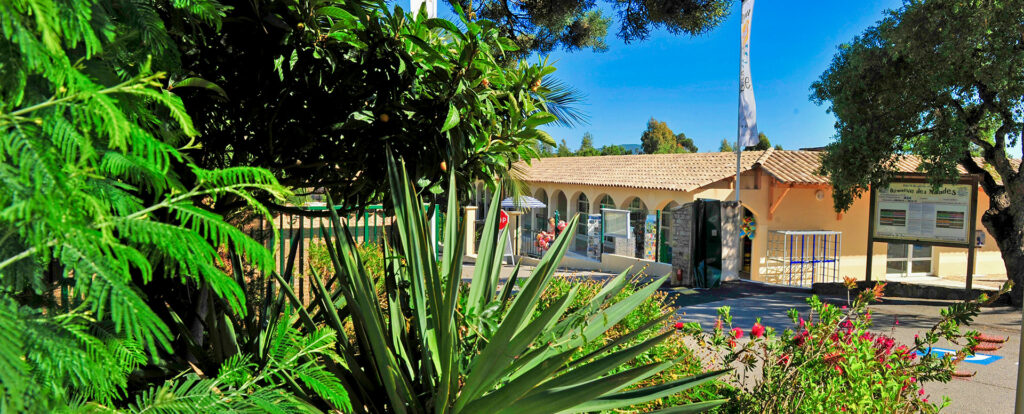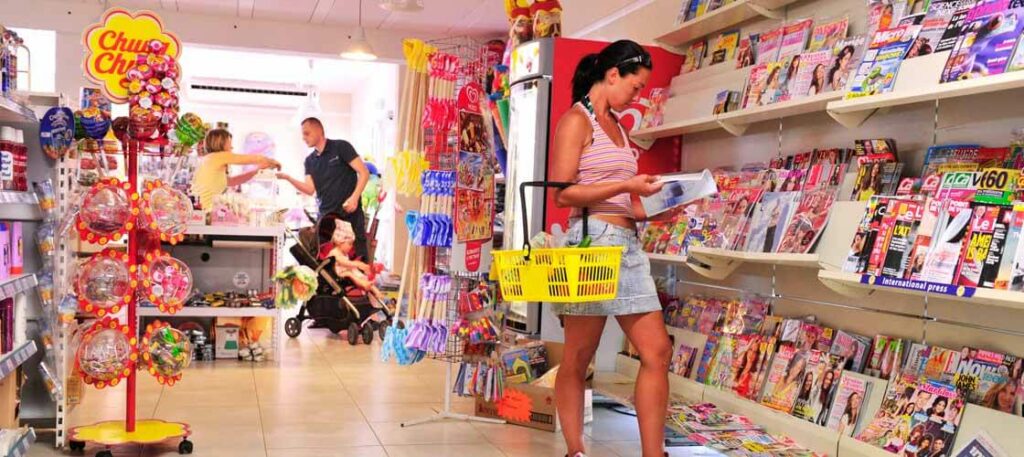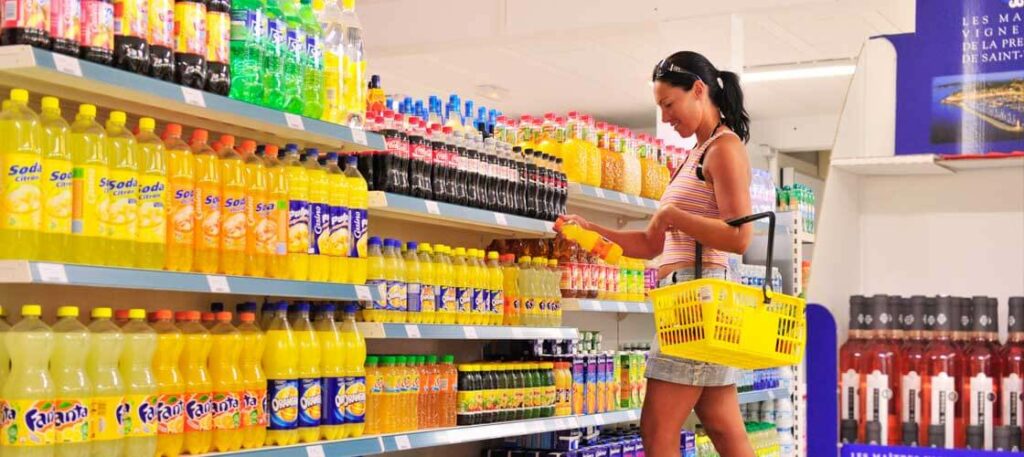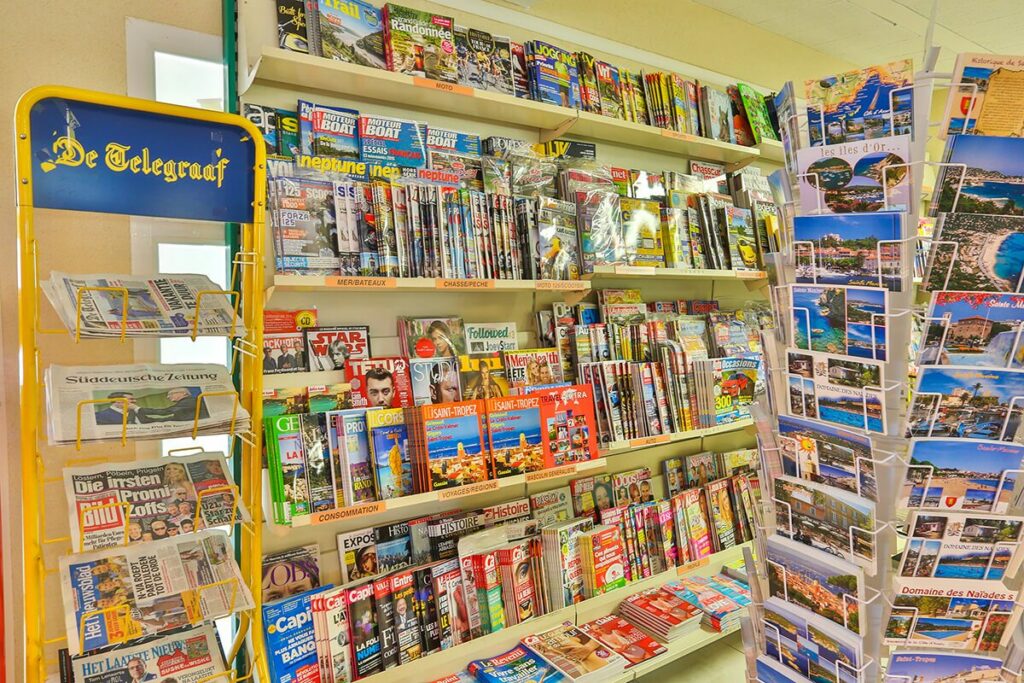 THE NAÏADES SNACK BAR
In July and August, come and enjoy our Snack eat in or take away.
On the menu burgers, pancakes, sandwiches, pizza, cold drinks, ice cream…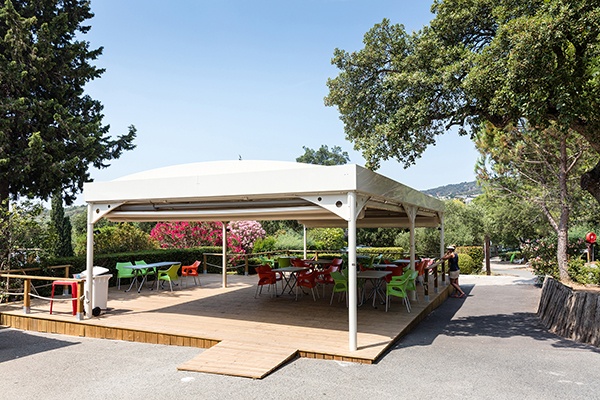 BIKE RENTAL
The campsite with our partner Naïades Bikes offers a bicycle rental service (children and adults) & electric bikes(adults only) throughout the season.
Possibility of half day (4h), day (9am-7pm), 24h or weekly rental.
Reservations on site.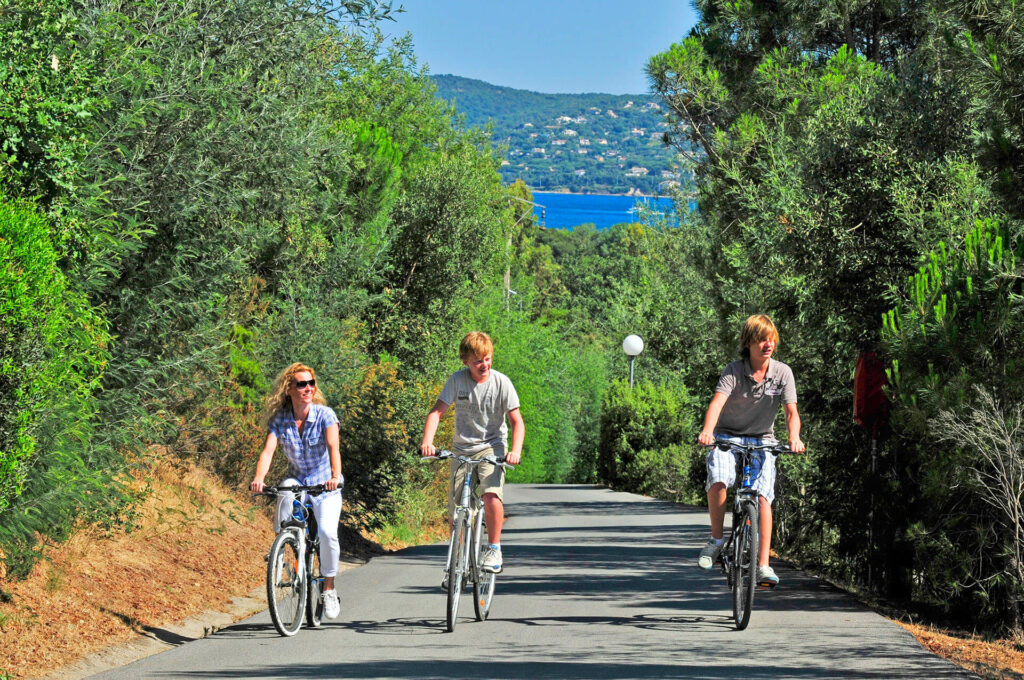 THE CAMPSITE SHUTTLE BUS
The campsite's beach shuttle awaits you at the entrance to the Domaine every day (except Saturdays) from 10am to 1pm and from 4pm to 7pm to facilitate your access to the beaches of Port Grimaud.
Service only available in July/August.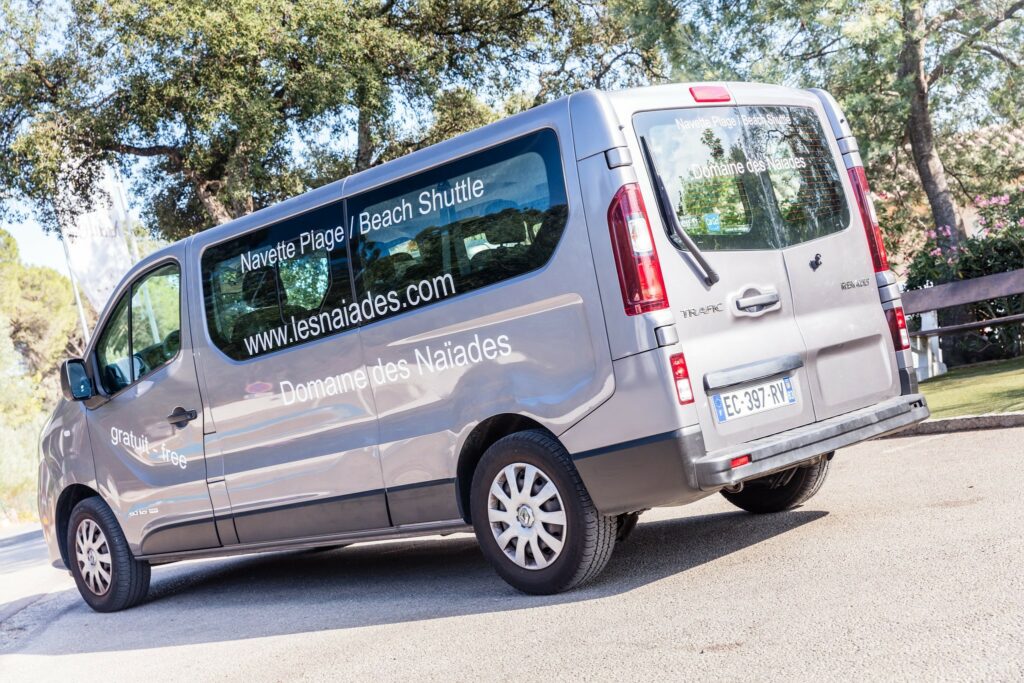 LAUNDRY POINT
A "Laundry" point is available 24 hours a day on the campsite, located at the Cassias sanitary block.
Washing machine : 6€ (without detergent)
Tumble dryer: 2€
This service works with credit card and coins of 1€ and 2€ (change possible at the reception).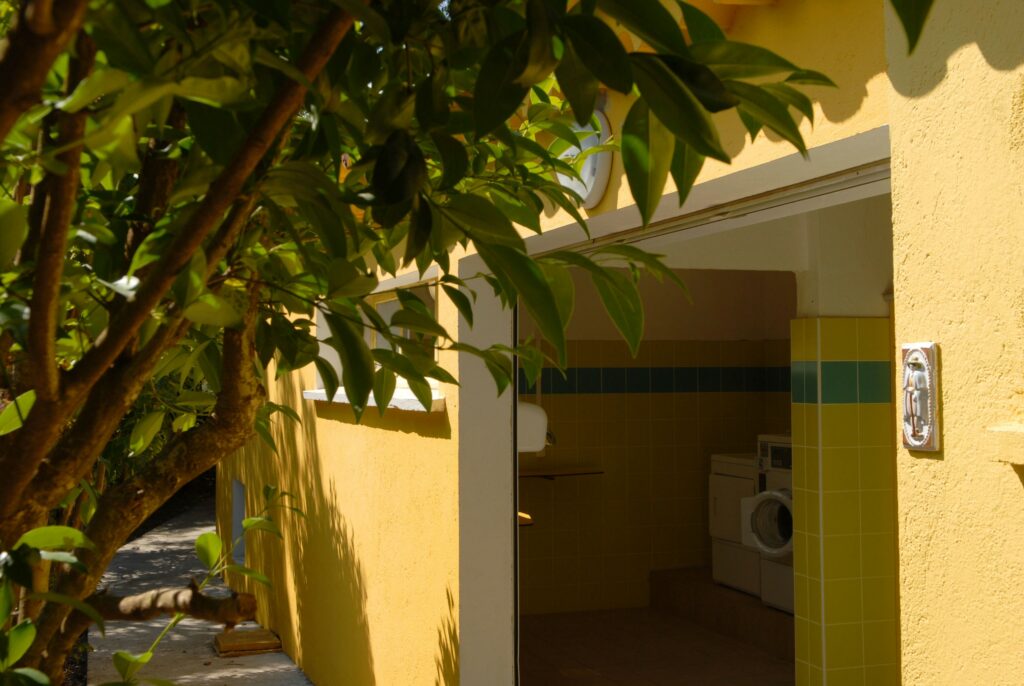 WIFI
To take advantage of the WIFI on the campsite and in your mobile home, cards are on sale at the reception:

Cost WIFI for 1 device : 24h = 8€,  3 days = 16€,  1 week = 24€, 14 days = 35€
Cost WIFI for 3 devices : 1 week = 41€, 14 days = 60€
An internet point is also available at the reception with a printer :
Cost Internet: 30mins = 5€,   60mins = 8€,  180mins = 15€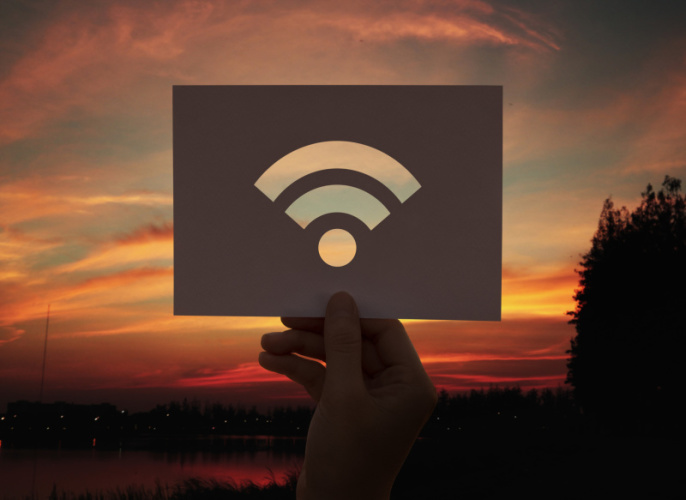 ELECTRIC CAR CHARGING POINT
In an ecological approach, since the 2020 season, the Domaine des Naïades has a terminal available to its customers to recharge their electric and/or hybrid cars.
The terminal is located in one of the car parks near the reception.
CHARGING ELECTRIC CARS :
Mobile home sockets are not suitable for charging electric cars
=> Risk of fire
Thank you for your understanding and cooperation.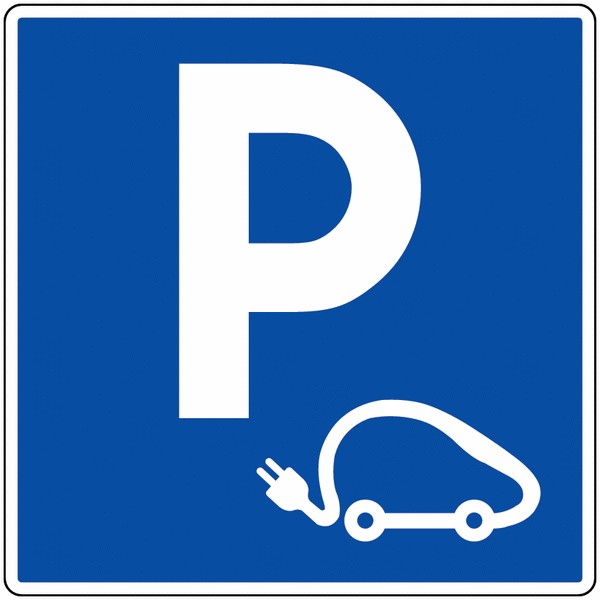 OTHERS SERVICES...
As a precautionary measure, the campsite is under video surveillance to ensure the safety of its guests. 
For your comfort and safety throughout your holiday, "Le Domaine des Naïades" has a security guard service on the campsite every night from 7pm to 7am as soon as the campsite opens.
During the rest of the year, the campsite is guarded and supervised during the day.
Our security guard will welcome you for late arrivals after the reception has closed until 23:30.